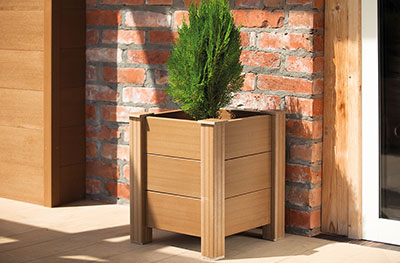 GlobalDeck FLOWERPOTS – durable composite pots from WPC for your garden or patio.
We produce each pot in standard sizes: 40cm x 40cm, 40cm x 60cm, 40cm x 80cm, 40cm x 100cm, 40cm x 120cm. Custom made pots are available for special order.
The three basic colors and two kinds of the boards' making, like brushing or polishing, widen the array of products so that everybody will find something that suits their needs.
Trimming (structure) of the 
Global

Deck

 composite pots:
 
 Trimming (structure)
Available colours
 polished
 brushed
 01 HAZEL
 
 
 02 GRAPHITE
 
 
 03 BROWN
 
 
All drawings, cross-sections and photos are samples and may differ from the products' real appearance.